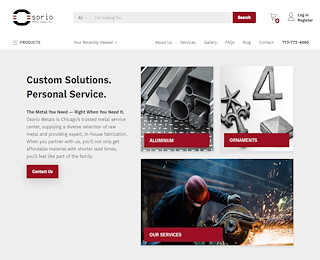 Steel can function beautifully in complicated commercial or residential buildings. Using the best manufacturer for custom metal fabrication in Chicago ensures you have an easy way to produce and maintain complicated facilities that last the test of time and weather.
Metal fabrication is a broad term with several different processing methods to produce cuts, molds, and shapes. The custom metalwork in Chicago
processes depend on the materials we work on and other factors to create a perfectly sized and unique fabrication material.
Different types of custom fabrication processes
Casting
There are many different casting processes to produce different types of metals. Some processes allow high-speed production because they apply pressure on molten metal to mold it into the perfect cast. The casting process must press the pattern into a pleasing shape that is effective for different economic purposes. Chicago metal fabricators use intricate designs for large and small fabrication processes; hence you can trust the casting process to suit a wide array of custom metal shapes.
Cutting
Cutting is the oldest fabrication method that includes tools like scissors, waterjets, laser, plasma, and many more. Different companies have a mix of manual and digital cutters to ensure the best fabrication process. We cut out the shapes to suit the details of your order, such as the size and thickness, so you do not need another redo or reorder for another batch.
Drawing
Drawing is the process of using tension to pull metal and stretch it into the perfect shape. Manufacturers consider it a drawing process because they are meticulous about the depth and radius of the material to turn it into metal sheets that form diverse shapes like cylinders and box vessels.
Folding
Folding manipulates and bends metal sheets into angles by hammering them using a folding machine. The machine holds the piece into place by lifting it and forcing it into bendable shapes when it has the right thickness, among other dimensions.
Forging
Forging uses force to manipulate metal into shape by striking it with a hammer. The striking happens at room temperature and combines a crystallization method to forge it into perfect shape. Forging is a relatively slow process, mainly because it is one of the oldest in the industry due to the simplicity of the tools.
Machining
Machining is a Chicago metal fabrication process of shaping metal into different shapes using a variety of tools and methods. Some of these tools into the cutters to make holes and create specific shapes, turning tools to move the metal into perfect shapes likes cylinders, millers to rotate the metal as we progressively remove materials from the piece and achieve the desired shape. The process can be more manual or technical depending on the combination of tools and processes; hence the production process can differ for each custom metalwork in Chicago IL.
Which fabricator should you choose for your project's needs? Our steel fabrication company in Chicago is experienced in custom fabrication projects and have the experience and resources to offer excellent products and processes for different materials. Check out our shortlist of custom metal fabrication processes and contact us for custom fabrication services consultation.
Osorio Metals Supply, Inc.
7737724060
4518 W. Haddon Ave
Chicago IL 60651 US