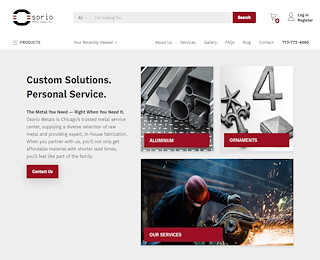 Security is one of your most important concerns. Whether at your home or your business, you want to ensure that you have the proper type of fencing and security gates to provide safety at access points. As one of the top metal fabrication companies in the area, we provide a selection of folding security gates in Chicago to meet your needs. With today's unknown possibility for vandalism and burglaries, security gates are the perfect way to keep your place of business safe from harm. Folding gates lock into place so they are virtually impossible to penetrate. We offer a selection of folding security gates in Chicago to meet your needs as well fitting your budget.
Single Security Gates

Single folding security gates in Chicago fold open in one direction. To close the gate, you pull it to the other side of the opening, whether it is a door, window, or other entrance. Our single security gates offer excellent protection and are ideal for small spaces where a single gate is ideal to protect the entire area. These expander gates in Chicago are easy to operate and to lock into place when you enter or exit the premises. We fabricate the gates to fit your needs and make them in sizes that are perfect for your needs. Single style gates are great for store front security such as small shops, restaurants, retail stores, and more. We offer several options including eco, standard, and heavy-duty. Single folding security gates in Chicago can be combined using a center vertical stiffener. A strong folding gate will successfully deter people from trying to enter or vandalize your premises when your store is closed.
Double Security Gates

Double security gates are perfect for large openings. They provide an entrance in the middle so you can open the gates in the middle. These double gates are useful in a variety of circumstances. For example, our double folding security gates in Chicago are perfect for mechanic shops, garages, commercial warehouse spaces and more. The double size allows for easy access, such as when a delivery vehicle needs to enter. We offer security gates in a variety of sizes including various widths and heights. We can easily fit any size opening with our sturdy gates. Our gates not only provide excellent protection but they are also easy to operate.
Selecting Folding Security Gates in Chicago

The size of the opening is one of the main considerations when choosing folding security gates in Chicago. We sell a wide range of sizes, so it is best to measure for the size you need to fit it properly. The type of use of the gate will also determine the style that will work best. A single security gate will often work best for single door or window openings. A double gate is helpful when you need to open the gate to allow a wider entrance, such as for vehicle entry. Both styles of gates are made with high-quality materials and expert workmanship to ensure they will work properly for a long time. We are happy to assist you in choosing the best folding gates for your needs. Call us for inquiries.
Osorio Metals Supply, Inc.
7737724060
4518 W. Haddon Ave
Chicago IL 60651 US