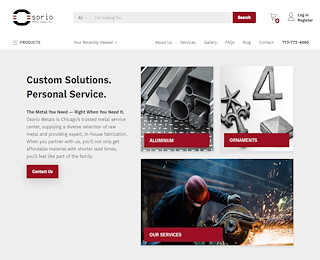 Metal fabrication plays a significant role in countless businesses, from equipment manufacturing and construction to creating end products and parts for commercial use. However, no matter how small or big your project may be, choosing the right metal fabrication company in Chicago is crucial. Since not every metal fabrication company is the same, it can be quite challenging to find the right one. Here are the top things you should consider when choosing a steel fabrication company in Chicago.
Capabilities and Expertise
Most Chicago metal fabricators have an area of expertise. For instance, some metal fabricators Chicago specialize in producing car parts, while some other are focused on manufacturing steel doors and fences. Since no metal fabricator is created the same, a company's expertise and capabilities are the first things you need to consider. Moreover, fabrication has different requirements when it comes to metal gauge, grade, and type. Of course, you want a metal fabrication company that can handle every fabrication job without sub-contracting.
Excellent Quality
When choosing a metal fabricator, it is important to always seek out companies that offer quality components. Most customers go for fewer quality products because they are cheaper. However, in the long run, this can cost you big time. At Osorio Metals Supply, our products are made of the highest quality materials, and we use the latest fabrication technology in producing our products. We have quality certifications and works to every application industry standard.
Experience
The metal fabricator you partner with should have extensive experience with your type of product. It is not enough that a metal fabricator has completed one or two similar projects before. Metal fabrication is a quite complex process, so it requires a high level of skills to not make costly mistakes. A metal fabrication company with a high level of skills and experience working on similar projects will be able to reduce mistakes while delivering high-quality work.
Turnaround
You also need to consider the ability of the metal fabricator to complete your work on time. You should hire a metal fabrication company with a history of completing projects late. You likely have other parts of the tasks of your project that will be stalled without the completion of the fabrication project. Reliable metal fabricators Chicago can provide a precise timeline of the project's process. Make sure schedules have all the steps, starting from manufacturing to the final product or installation.
Customer Support
A satisfied customer is vital for any metal fabricator. So, when searching for the right company, you need to make sure that they will provide full support from start to finish. While it is not easy to identify this, you can always check the fabricators' reviews online, request a reference and talk to some of their past customers.
Let Osorio Metals Supply Be The Solution for Your Custom Metal Fabrication Work
With decades of experience and state-of-the-art technology, Osorio Metals Supply offers a suite of services, including sheet metal fabrication and product development. For more information about our custom metalwork in Chicago, IL, call us for all inquiries.
Osorio Metals Supply, Inc.
7737724060
4518 W. Haddon Ave
Chicago IL 60651 US