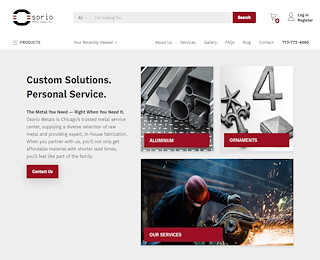 It is essential to choose the right steel supplier whether you are working on commercial or residential projects. It is potentially overwhelming to get around first-time research of picking a Chicago metal supply company without asking essential questions and checking all credentials. Finding the right supplier is about making sure they have all the right tools and materials for the job and the skill to prevent production delays and constant redos. We have assembled several factors to look at when considering steel suppliers in Chicago.
Reasons we are a reliable steel supply in Chicago IL company
Reliability
Meeting your production goals is impossible if you cannot rely on your supplier to get you the suitable materials and tools to complete each step at the right time. The right supplier can give you what you need and has a history of fulfilling orders successfully to meet your deadline. We strive to meet all our deadlines in time, even when we receive short emergency orders, and will give you a timely report on what to expect so you can stay on schedule with our works.
Certification
Companies that have an ISO certification are usually more reliable and proven to get the work done a lot faster. Thankfully, it is easy to confirm these certifications online or at the first consultation meeting. Ensure the certificate is recent and has proper improvement standards to show their competency in maintaining well-documented and consistent processes.
Realistic deals
The worst steel suppliers will have a good marketing front that is aggressive enough to convince you of their prowess. However, only a few can match up to their standards when push comes to shove; hence they will crumble under pressure and deliver inadequately or the wrong items. Chicago metal fabricators know that your building is only as good as the materials you use for the construction and want to fulfill orders with the highest benefit.
As such, our metal suppliers in Chicago will insist on good project management, detailed order details, and smooth working conditions to make sure you have a realistic schedule and proper deliveries. We can't have reworks, delays, and illogical rescheduling because we know it translates into a poor craft. More so, the team has a highly positive response if you wish to change your order, which makes it possible for you to keep up an aggressive timeline and successful project execution.
Business ratings
What are the reviews and testimonials regarding the company? Take time to check reliable platforms like the Better Business Bureau or Yelp for customer reviews and ratings on our steel supply in Chicago.
Osorio Metals Supply provides a high level of expertise in the industry because they understand what the business means to their family and other people. The founders have extremely humble roots in the US and worked their way through multiple industries and career paths to master business trades, customer support, and proficient product supply. Our steel manufacturers in Illinois want to help you understand how we fit into your project when you contact us for inquiries or call 773-772-4060 for an immediate consultation.
Osorio Metals Supply, Inc.
7737724060
4518 W. Haddon Ave
Chicago IL 60651 US